Sunset Transportation CEO, St. Louis Mayor, Economic Leaders Discuss Joint City/County Economic Benefits
Jan 04, 2012 - (PRLog) - Third party logistics company Sunset Transportation recently hosted St. Louis city and county officials as they announced a new global trade designation that enable economic growth. Mayor Francis Slay, economic leaders, and Sunset Transportation CEO, Jim Williams, all spoke at the press conference to area media.  The program, an expanded version of the Foreign-Trade Zone (FTZ) called Alternative Site Framework (ASF), will encourage more global trade and transportation within St. Louis.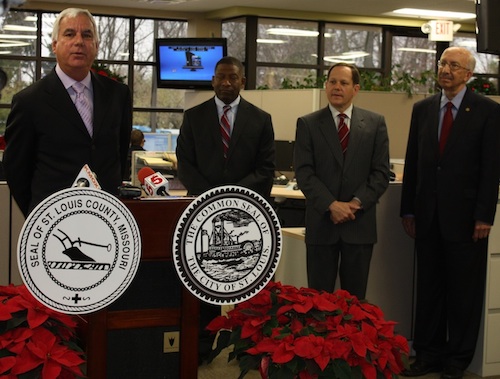 As a third party logistics company with more than two decades experience, Sunset Transportation (http://onthemove.sunsettrans.com) has a large local customer base of manufacturer and distributors that transport goods globally.
"With St. Louis as a Foreign Trade Zone, Sunset's customers and other local manufacturing and distribution companies now have greater opportunity to compete globally," said Jim Williams, CEO of Sunset Transportation. "Our customers will have less red tape and more cash flow, which will save on international transportation costs and encourage growth. The Foreign Trade Zone will be an important economic boost to our customers and local economy."
In addition to reducing global supply chain costs and improving the bottom line, the designation allows new and existing companies within the City and County to secure FTZ status within approximately one month's time. Without the program, it can take up to a year to secure or expand one's FTZ status.
Sunset Transportation, headquartered in St. Louis, Mo. is a leader in third party logistics (3PL), with expertise in truckload, less than truckload, international, inter-modal, warehousing and freight audit & payment